brainstorming tools
Tinderbox 9.6.0 Review
This review is based solely on my research on acrobatfaq.com. I encourage readers to share their thoughts and experiences with Tinderbox in the comments section.
Tinderbox 9.6.0, developed by Eastgate Systems, provides users with a comprehensive set of features to capture, organize, and share notes. It stands out from other note-taking tools with its ability to actively work on the user's behalf by organizing and highlighting notes that require attention. The brand, Eastgate Systems, has a reputable presence in the market and is known for creating innovative software solutions.
Key Features
Notes
Notes are the basic elements of writing and information in Tinderbox. Each note has a title and a text field.
You can create multiple Tinderbox documents and each document can contain thousands of notes.
Notes in Tinderbox can be easily organized, reorganized, and categorized as your understanding evolves.
Multiple Views
Tinderbox provides various views to examine and analyze your notes from different perspectives:
Maps: This view lays out all the notes in a container on a large plane, similar to sticky notes on a wall.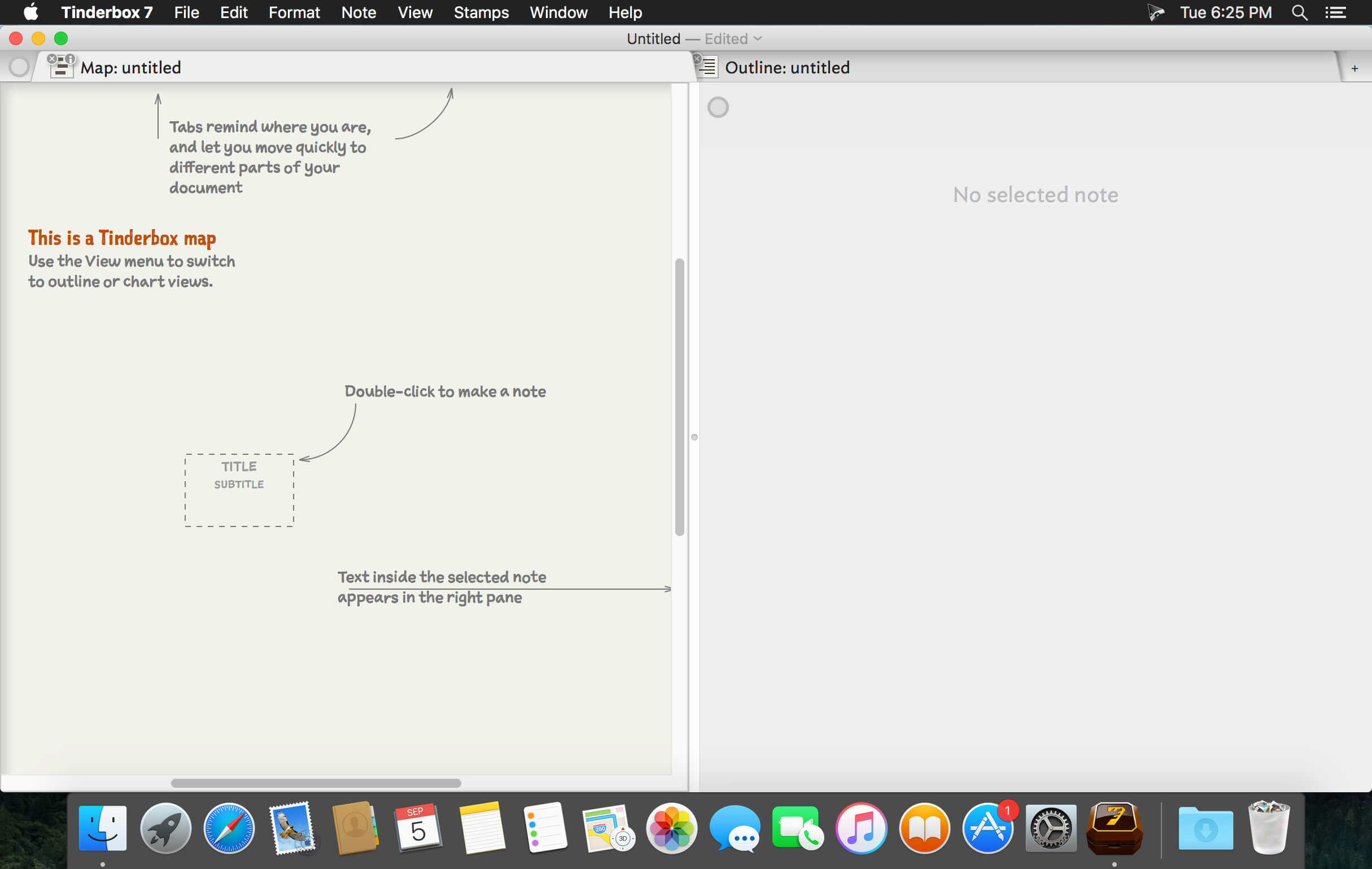 Image Source: insmac.org
Outlines: This view presents an outline of the entire collection of notes or a specific section.
Charts: This view displays a hierarchical tree chart of the notes.
Timelines: This view shows the timeline with the start and end dates of each item in the container.
Treemaps: This view presents a diagram of your document as a set of nested boxes.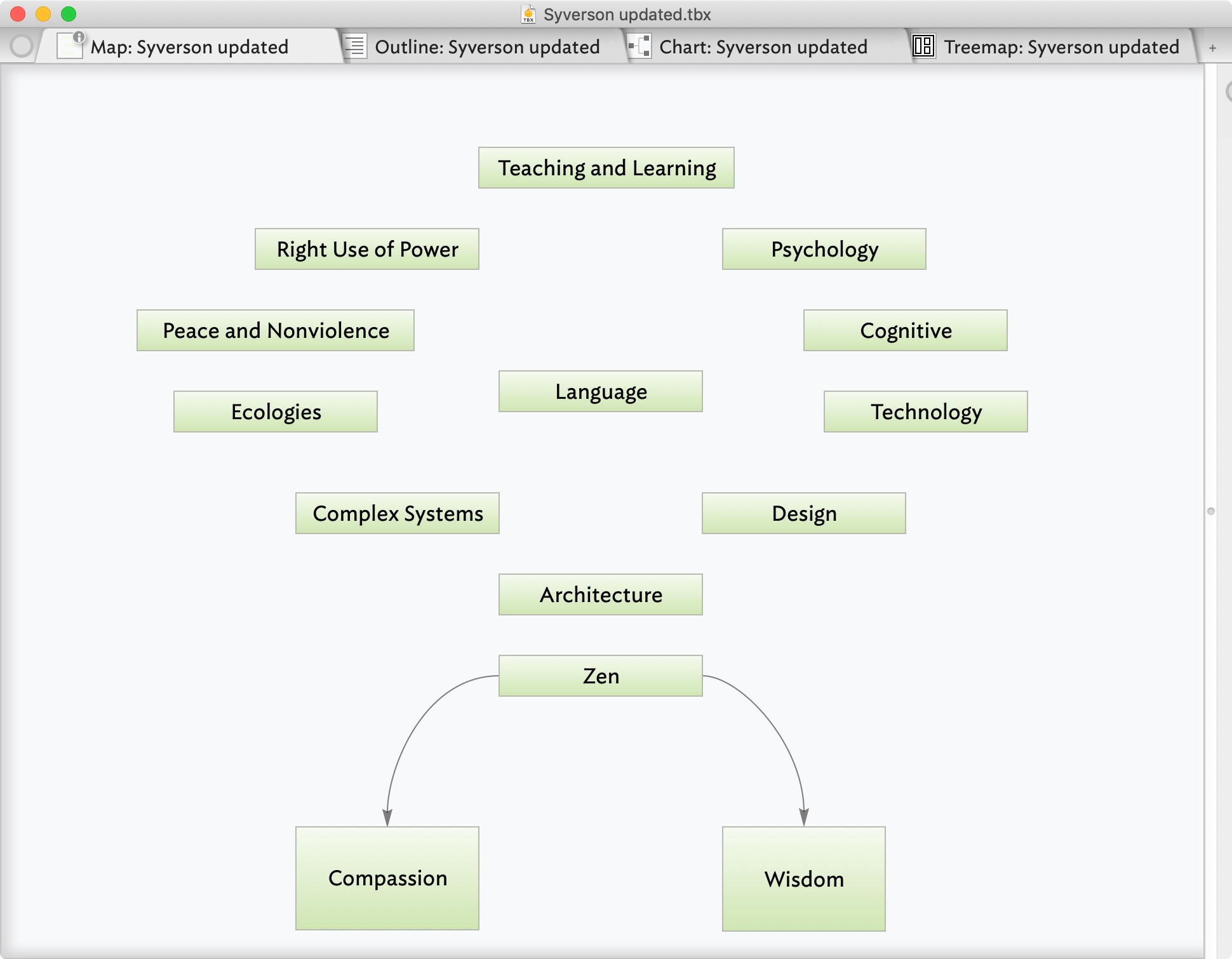 Image Source: eastgate.com
Attribute Browser: This view lists each item in a container, arranged by the values of a chosen attribute.
Custom Attributes: Tinderbox allows users to add attributes to their notes at any time. Initially, information can be recorded in the text of each note, and later, specific facts can be moved to appropriate attributes. This flexibility allows for customized categorization and organization of notes.
Automation and Integration
AppleScript: Tinderbox supports AppleScript, enabling users to automate tasks and integrate the tool with other applications.
Advanced Features
Agent: Tinderbox offers an agent feature that allows for automatic actions and responses based on predefined rules.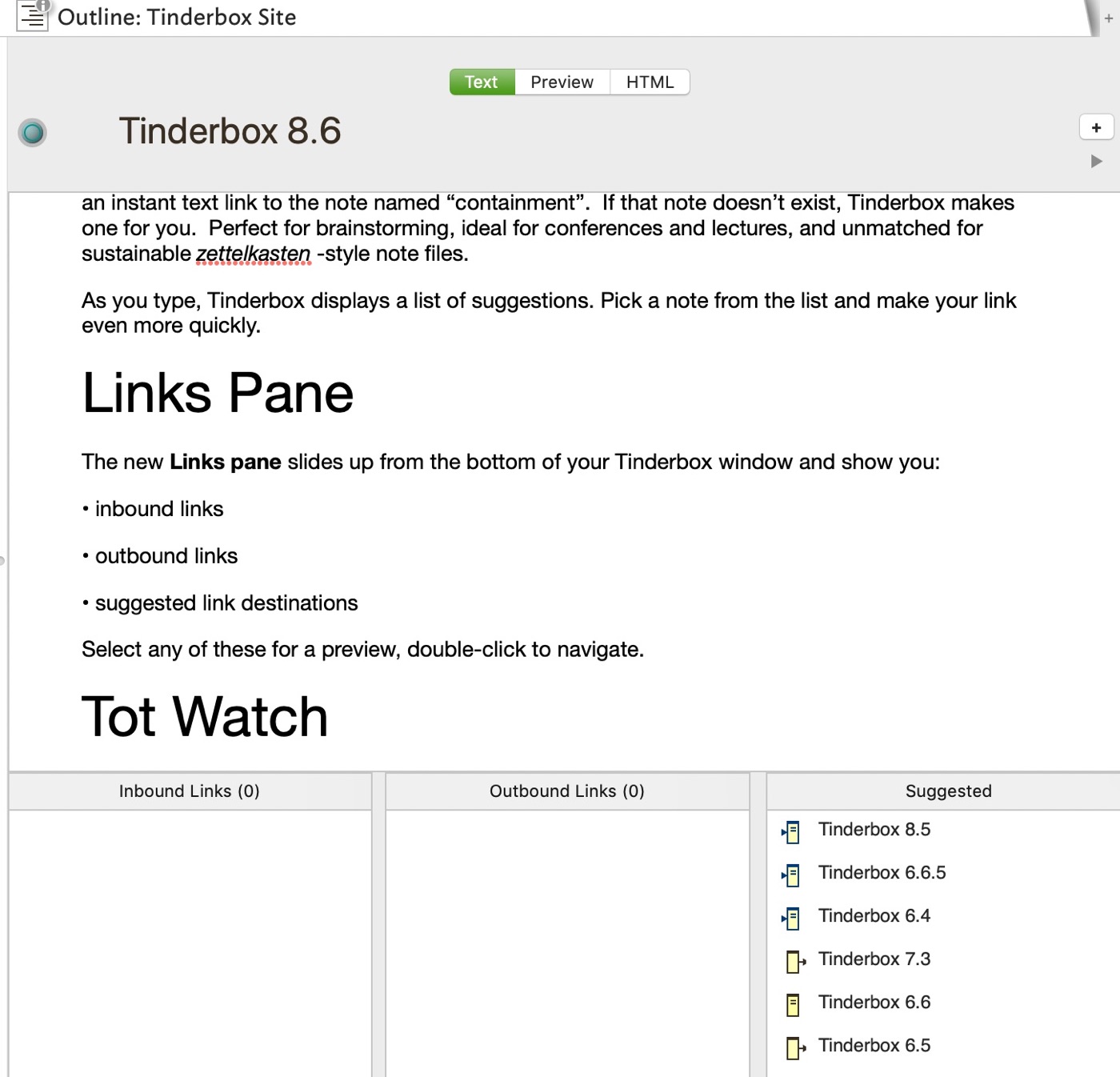 Image Source: eastgate.com
Ziplinks: Ziplinks provide a way to link Tinderbox notes to documents, URLs, or other resources.
Markdown: Tinderbox supports Markdown formatting in notes for easy formatting and styling.
Composites: Composites allow grouping of notes within a container, treating them as a single unit.
Queries and Actions: Tinderbox provides a powerful querying system to filter and search for specific notes based on criteria.
Fetching Information From The Web: Tinderbox can scrape web data and import it into notes.
Export and Sharing
Export: Tinderbox allows users to export notes and documents in various formats, such as HTML, OPML, and more.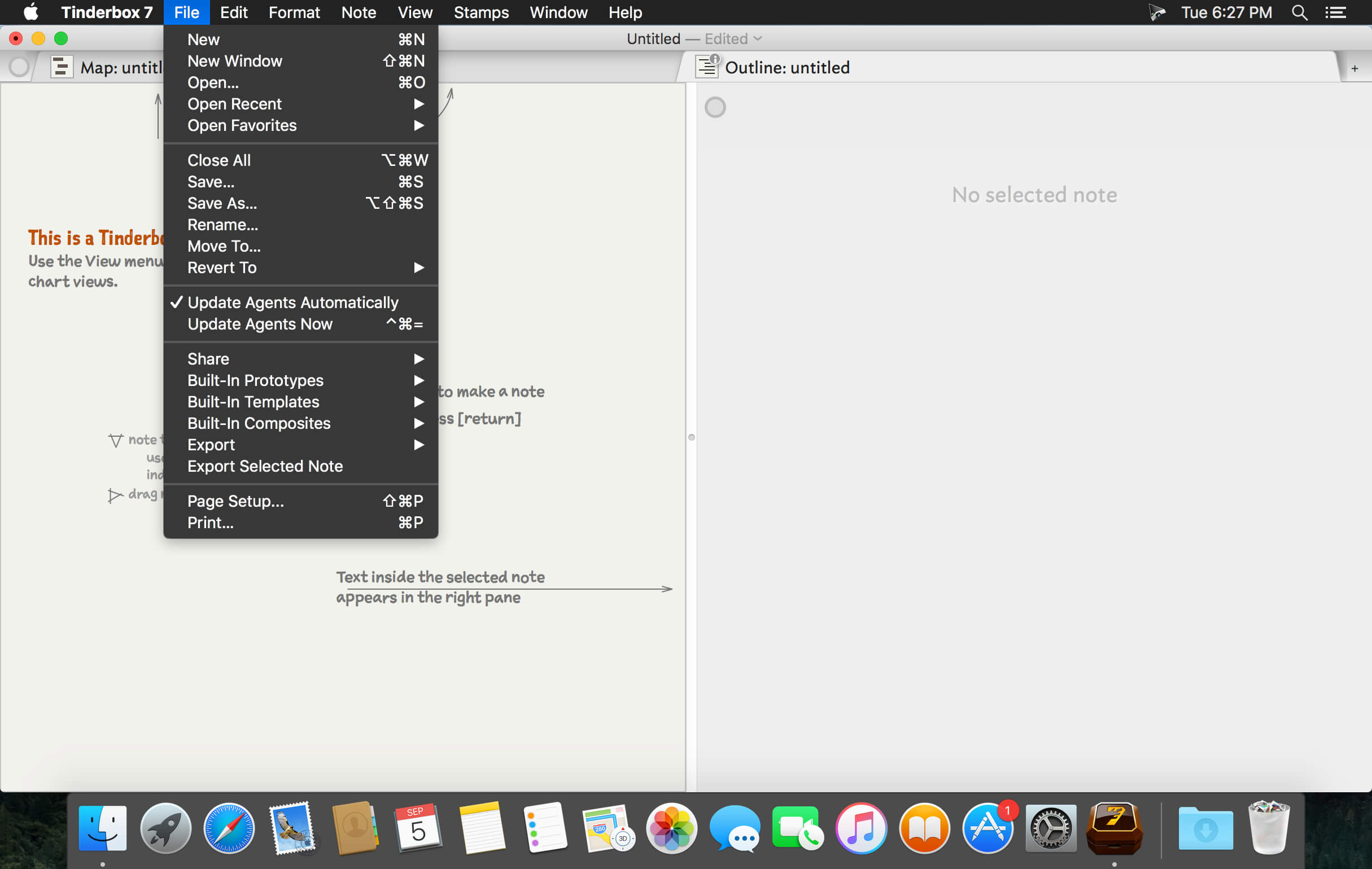 Image Source: insmac.org
Watching Shared Notes: Tinderbox facilitates collaborative work by allowing users to watch shared notes and be notified of changes.
Pros
Versatile Note Organization: Tinderbox allows users to quickly capture ideas and easily reorganize them as their understanding evolves. This flexibility makes it an ideal tool for brainstorming and project management.
Effective Information Management: With notes as the basic building blocks, Tinderbox provides a comprehensive set of attributes and values to structure and categorize information. This allows for efficient organization and retrieval of notes.
Customizable Interface: Tinderbox offers features like timelines, hyperbolic view, treemaps, and crosstabs, which provide unique ways to visualize and analyze data. These tools enhance the overall user experience and allow for better insights.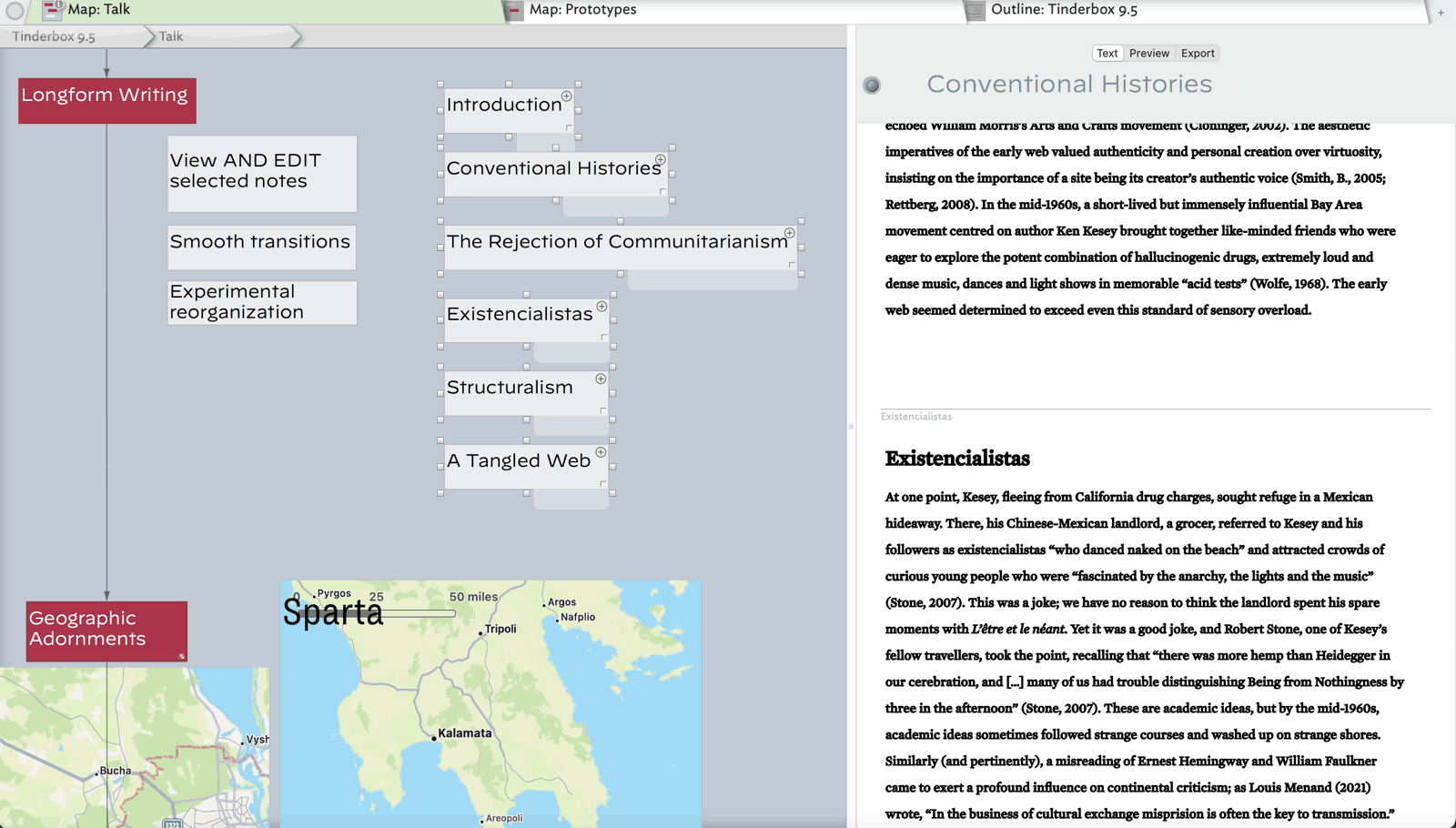 Image Source: eastgate.com
Automation and Integration: Tinderbox supports AppleScript, allowing users to automate tasks and integrate the tool with other applications. This feature enhances workflow efficiency and seamless integration with existing systems.
Cons
Steep Learning Curve: Due to its extensive feature set, beginners may find Tinderbox overwhelming at first. The abundance of options and customization possibilities may require some time and effort to fully grasp and utilize.
Limited Mobile Availability: Currently, Tinderbox is only available for Mac operating systems. This restricts users who rely heavily on mobile devices and may limit accessibility for a wider audience.
Personal Experience
My personal experience with Tinderbox 9.6.0 has been largely positive. The tool performed exceptionally well in capturing and organizing my notes, allowing me to easily navigate and access information. The interface is intuitive and user-friendly, making it a seamless experience to move and reorganize notes within different documents. I found the customization options, such as attribute browsers and queries, to be particularly useful in tailoring the tool to my specific needs. However, I did face a slight learning curve initially, which required some exploration and experimentation to fully harness its capabilities.
Comparison
In comparison to other note-taking tools like Evernote and OneNote, Tinderbox 9.6.0 sets itself apart with its advanced features, customizable interface, and automation capabilities. While it may not have the same cross-platform availability as its competitors, Tinderbox offers a higher level of flexibility and organization, particularly for users who work extensively on Mac systems.
Price & Value
Tinderbox 9.6.0 is priced at a premium compared to some other note-taking tools. Its price is justifiable considering the extensive features, customization options, and potential for improved productivity. If used regularly and to its full potential, the value it provides in terms of organizing complex information and streamlining workflows make it a worthwhile investment.
Conclusion
In conclusion, Tinderbox 9.6.0 is a powerful and versatile tool for note-taking and organization. Its unique features and customizable interface make it a valuable asset for individuals or teams looking to enhance their productivity and efficiently manage information. While there is a learning curve associated with mastering the tool, the benefits it offers outweigh any initial challenges. I highly recommend Tinderbox 9.6.0 to individuals and professionals seeking a comprehensive and flexible note-taking tool.
Disclosure: I did not receive any compensation, free samples, or discounts from Eastgate Systems while reviewing Tinderbox 9.6.0. This review is based solely on my research on acrobatfaq.com. I encourage readers to share their thoughts and experiences with Tinderbox in the comments section.